Are you tired of the same old birthday parties?
Looking for something truly special to make your child's celebration stand out?
Look no further! In this post, we present a handpicked selection of unique kids party themes that will make your little one's day truly unforgettable.
1. Galactic Adventure: A Space Odyssey
Dive into the wonders of outer space with a Galactic Adventure theme.
Decorate the venue with twinkling stars, hanging planets, and futuristic props.
Encourage kids to dress up as astronauts and aliens for fun experience.
Set up a rocket ship photo booth and a DIY galaxy slime station.
Engage them in space-themed games like "Meteor Toss" and "Alien Relay Race."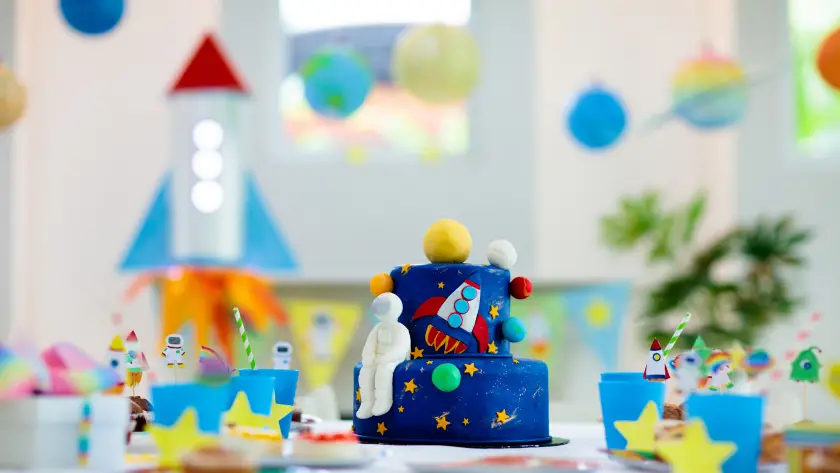 2. Enchanted Garden: Fairy and Gnome Soiree
Transform your backyard into an enchanting garden with vibrant flowers, toadstools, and fairy lights.
Kids can dress up as fairies, elves, or gnomes to bring the magical realm to life.
Organize a treasure hunt or a fairy-themed obstacle course for delightful adventures.
Create a DIY craft station where children can make their own fairy wands or gnome hats.
3. Mystical Carnival: Circus Under the Stars
Set up a whimsical carnival atmosphere with colorful tents, circus banners, and twinkling lights.
Feature interactive carnival games such as ring toss, bean bag toss, and face painting stations.
Hire a magician or clown to entertain the children with captivating tricks and comedy acts.
Serve classic carnival treats like popcorn, cotton candy, and snow cones for a nostalgic touch.
4. Ancient Treasures: Egyptian Adventure
Transport the kids to ancient Egypt with hieroglyphic wall decorations and faux mummy props.
Encourage attendees to come dressed as pharaohs, queens, or archaeologists.
Organize a pyramid building contest or a treasure hunt for hidden artifacts.
Serve themed snacks like pyramid-shaped sandwiches and "Scarab Beetle" cookies.
5. Wild West: Cowboy Roundup
Create a western-themed setting with hay bales, rustic signage, and cowboy hats.
Set up a lasso station for kids to practice their roping skills.
Plan a "Gold Rush" treasure hunt with hidden treasures buried in sandboxes.
Serve cowboy-inspired food like "Chuckwagon Chili" and "S'mores on the Campfire."
6. Underwater Adventure: Mermaid and Pirate Party
Transform your party venue into an underwater paradise with ocean-themed decorations.
Encourage kids to dress up as mermaids, mermen, pirates, or sea creatures.
Set up a "Walk the Plank" game and a treasure hunt for hidden mermaid jewels.
Serve snacks like "Seaweed Wraps" and "Pirate Ship Cupcakes."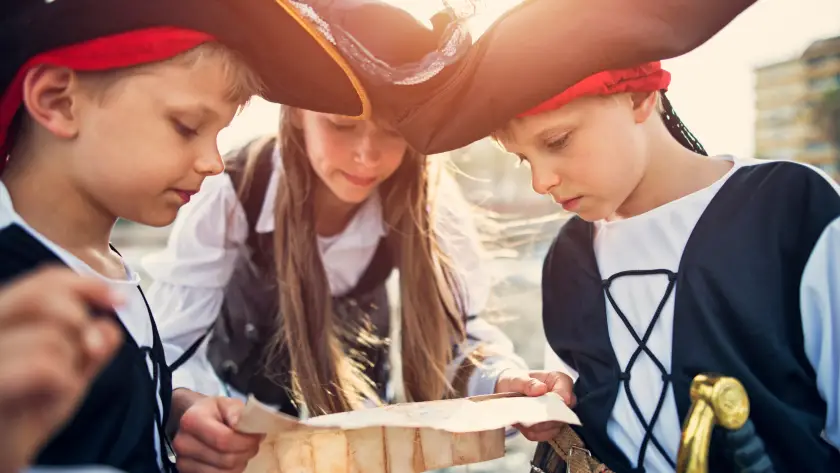 7. Time Travelers: Back to the Future Bash
Take kids on a journey through time with a time travel-themed party.
Create a futuristic atmosphere with metallic decorations and "time machine" props.
Plan activities like "Time Capsule Crafting" and "Time Travel Scavenger Hunt."
Serve "Galactic Pizza" and "Robot Punch" for a sci-fi twist.
8. Culinary Quest: MasterChef Junior Party
Host a cooking competition party for aspiring young chefs.
Set up cooking stations with aprons, chef hats, and various ingredients.
Organize challenges like cupcake decorating or creating personalized pizzas.
Award a "MasterChef Junior" trophy to the winning team or individual.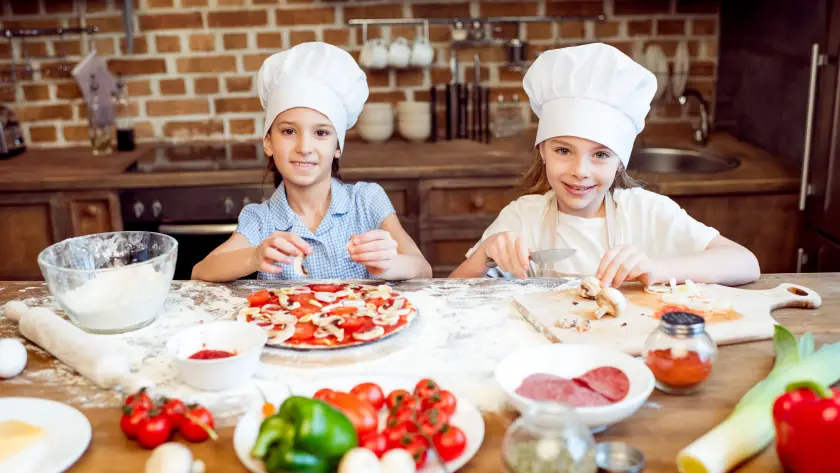 9. Mythical Creatures: Unicorn and Dragon Extravaganza
Create a magical world filled with unicorns and dragons for a fantasy-themed party.
Decorate with rainbow-colored decorations, unicorn horns, and dragon cutouts.
Organize unicorn-themed activities like "Pin the Horn on the Unicorn" or a dragon egg hunt.
Serve unicorn-inspired treats such as "Rainbow Popcorn" and "Magical Milkshakes."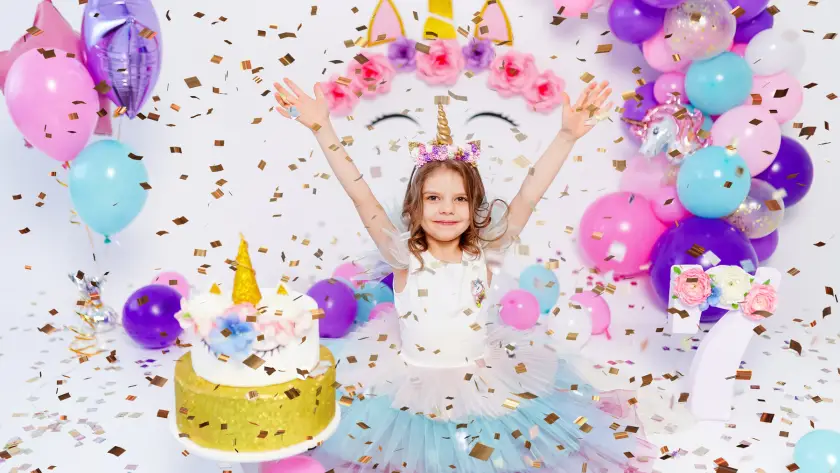 10. Super Sleuths: Detective Mystery Party
Transform your party into a thrilling detective mystery adventure.
Send out secret invitations and provide detective badges for each child.
Plan a mystery-solving game with clues and hidden objects.
Serve "Mystery Sandwiches" and "Spy Water" to keep the sleuths energized.
11. Enchanted Forest: Woodland Creatures Adventure
Transform your party space into a magical woodland with trees, fairy lights, and forest-inspired decorations.
Encourage kids to dress up as woodland creatures like fairies, gnomes, or animals.
Plan a nature scavenger hunt or a fairy house building activity.
Serve forest-themed treats such as "Acorn Cookies" and "Fairy Berry Punch."
12. LEGO Mania: Brick Building Extravaganza
Host a LEGO-themed party for young builders and creative minds.
Decorate with LEGO-inspired colors and patterns.
Organize LEGO building challenges or a collaborative building project.
Serve LEGO-shaped snacks like "Brick Pizza" and "Building Block Brownies."
13. Mad Scientist: Lab Experiment Party
Transform your party into a mad scientist's laboratory.
Decorate with lab equipment, test tubes, and bubbling potion props.
Plan science experiments like volcano eruptions or slime-making.
Serve "Lab Rat" cupcakes and "Alien Punch" as refreshments.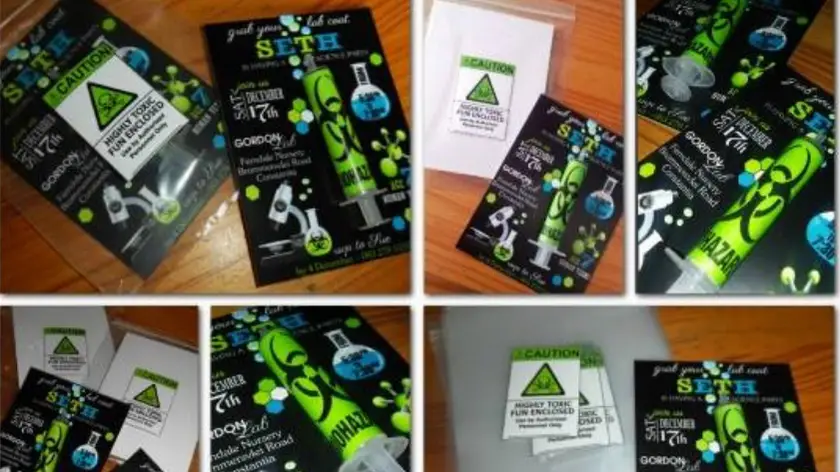 There you have it—unique kids party themes that will make your child's celebration shine brighter than ever.
Whether your little one dreams of intergalactic adventures or enchanting realms, these fun party ideas are sure to leave lasting memories.
Share your own unique party theme ideas or let us know which theme you're excited to try next!